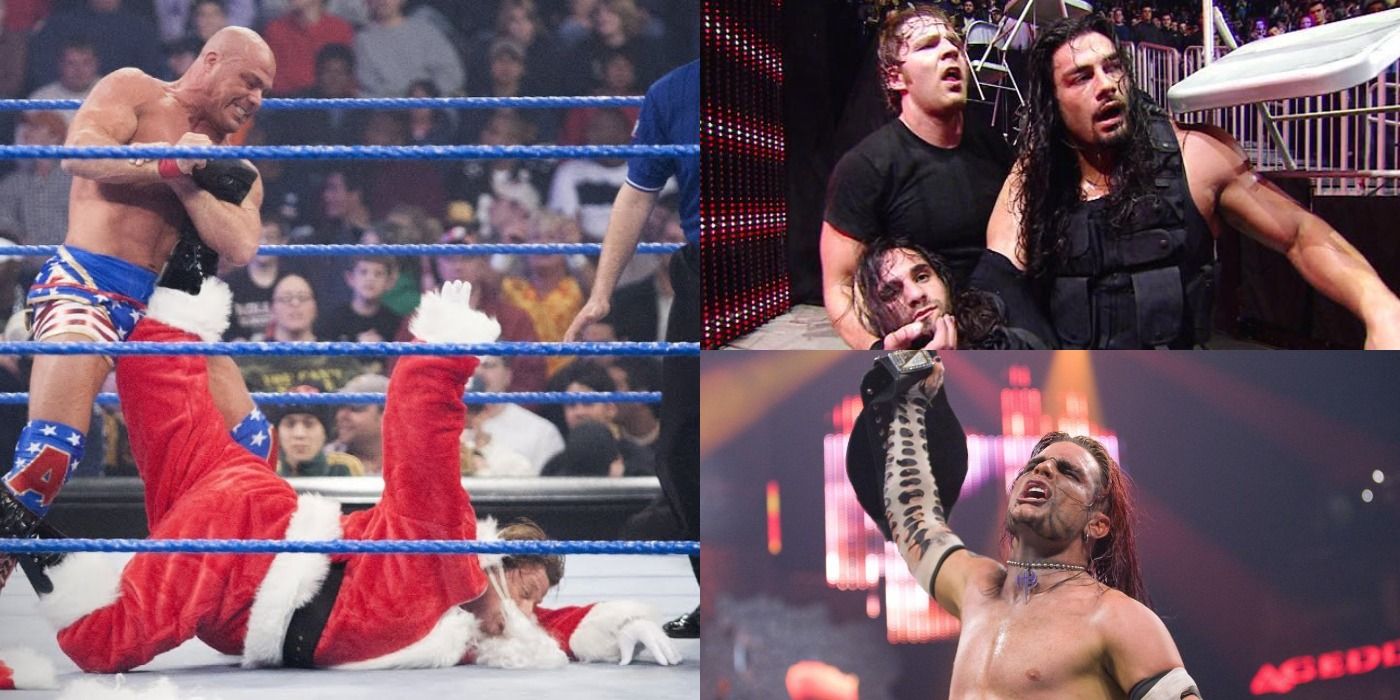 5 Best WWE PPVs of December (& 5 Worst)
As a matter of fact, from WWE December PPVs often lack quality action, with plenty of events involving non-endings, slow matches, and questionable bookings. Whether it's year-end fatigue or not wanting a huge show to overshadow the road to Wrestlemania, December is often a downtime for the company.
However, some shows still provided some great action, thrilling matches, and historic moments. WWE's very first December PPV No Holds Barred The Match / The Movie isn't rated best or worst as it is a one-match show and unlike anything produced via a WWE PPV. December to Dismember was an ECW PPV event, albeit under the WWE banner during the ECW revival, and is widely regarded as one of the worst PPVs of all time. So in the spirit of fairness this one will be ignored as it's woefully off the scale and technically an ECW show anyway.
ten


WORST: This Tuesday in Texas, 1991
This was WWE's first attempt at trying to establish a PPV night on Tuesday, and it failed miserably. There was nothing to complain about in terms of in-ring action. Bret Hart defeated Skinner in an average Intercontinental title match, while Hulk Hogan won the WWF Undertaker Championship in the main event, in another average match, with a finish that saw Hogan throwing ashes into the eyes of the Deadman.
RELATED: The Undertaker Vs. Hulk Hogan And 10 Other Revenges That Happened Years Apart
The rest of the show was bland, with Randy Savage and Jake Roberts disappointing in a six-minute whine, and The British Bulldog being unable to carry The Warlord to anything other than a long hard-to-watch job. The sight wasn't terrible, but it was so naked and lifeless that it seemed out of place.
9


BEST: Armageddon, 2007
It was a fun event, lived up to the expectations of many. MVP and Rey Mysterio struggled a decent first match, with a great match between Shawn Michaels and Mr. Kennedy in the middle of the map, which showed what Kennedy is capable of.
Jeff Hardy shocked Triple H in a big win to become the number one contender for the WWE title, and the main event featured a surprising sprint between Batista, Edge and The Undertaker for the World Heavyweight Championship, which featured signed a good show.
8


WORST: Tables, ladders and chairs, 2014
To bring out the positive, Dolph Ziggler and Luke Harper played a Big Ladder Match to open the show. After that, however, the night was terrible and full of "meh" finishes. The Tag Championship match ended with a frustrating DQ, Brie Bella sprayed AJ Lee with liquid (which was not revealed) to allow Nikki Bella to retain the Divas title, and the main event ended in a ridiculous fashion, when Dean Ambrose was blinded by an explosion caused by his own stupidity, allowing Bray Wyatt to win.
The rest of the show was slow, with Erick Rowen and Big Show struggling in perhaps the most boring gimmick match in history – a Stairs match. Ryback and Kane had a grueling Chairs match, while John Cena defeated Seth Rollins with the help of a returning Roman Reigns in a grueling Tables match.
7


BEST: Vengeance, 2001
The historical context of this event may give it a boost in the eyes of some, but despite a questionable finish to the main event, this show was full of solid action. Edge and William Regal had a great game, while The Undertaker faced RVD for the Hardcore title in a unique style clash, in an enjoyable affair.
RELATED: 10 Things Fans Forget About Chris Jericho In WCW
Steve Austin defended the WWF title against solid Kurt Angle at worst, while The Rock and Chris Jericho stole the show in a fantastic match for the world heavyweight title. Jericho would go on to beat Austin in the main event, becoming the Undisputed Champion, making history in a moment to remember and cementing himself in the WWE record books following his stint in WCW.
6


WORST: Armageddon, 2004
This show's main WWE Championship event was fun, but the rest of the map felt like a weekly TV show, and not a good one. Daniel Puder and The Miz "struggled" in a Toughman game with very unclear rules, which was a mess. John Cena ended Jesús' PPV career in an average contest, Dawn Marie and Miss Jackie had an appalling women's match, with both of the show's tag matches being passable, but not at all remarkable.
Kurt Angle has had one of the worst PPV games of his career, going up against Santa Claus (yes, Santa Claus) first, before being in the losing trio in a three-way handicap against The Big Show, who did not. 'nobody helped.
5


BEST: Tables, Ladders & Chairs, 2016
There was simply nothing wrong about this show with every game being good and above. The show opened with a quick but fun Tag title match, followed by a No-DQ contest between Nikki Bella and Carmella. The Miz and Dolph Ziggler finished their enjoyable trilogy in a Ladder match, and Baron Corbin and Kalisto made the most of the Chairs match stipulation with a brutal contest.
Alexa Bliss signaled her coming out with a table win over Becky Lynch for the SmackDown Women's Title, and AJ Styles defeated Dean Ambrose in an extremely enjoyable and spot-filled TLC main event, continuing SmackDown's fun PPV trend in 2016.
4


WORST: Armageddon, 1999
This show had average action at times and a few terrible matches from the main event. Early in the night, a green Kurt Angle (which is incredibly rare to see considering his talent for pro wrestling) had a sloppy match alongside Steve Blackman, while The Hollys struggled a mediocre match against the heavy team of Viscera and Rikishi, alongside a lackluster match for the European title.
RELATED: 10 Times Vince McMahon Has Interested In WWE Matches
The Big Show defeated Big Boss Man in a three-minute WWE Championship match, which was not eligible to represent the WWE Title on a PPV. The event ended with a nearly half-hour game between Triple H and Vince McMahon, in which only the last minute of the match even counted. The event also hosted an evening gown pool match for the women's title. Yeah.
3


BEST: Tables, Ladders & Chairs 2012
While the show wasn't fantastic from top to bottom, the good outweighed the bad and carried the event. The Tag Team Tables match to open the show was quick and fun, Kofi Kingston and Wade Barrett put on a strong Intercontinental Championship game, and Big Show and Sheamus had a decent Chairs match.
The main talking points came from a brilliant Ladder match between Dolph Ziggler and John Cena, which should have really pushed Ziggler to the main event. There was also an incredible TLC match between Ryback, Team Hell No and The Shield, which cemented the three debutants as stars in a Match of the Year Contender and one of the best TLC games in recent memory.
2


WORST: In Your House 26: Rock Bottom
The name of this event perfectly matches its execution. The first two tag team games on the map were boring, followed by a score victory for Steve Blackman over Owen Hart. In the middle of the map, Jeff Jarrett faced off against Goldust in a strip match, in which a Goldust victory would have forced Debra to strip down. This was another case of WWE's blatant objectification of women.
The show was capped off with two bad gimmick matches. The WWF title match between The Rock and Mankind was an overbooked mess that made no sense. This was followed by an equally poor Buried Alive match between Steve Austin and The Undertaker.
1


BEST: Armageddon 2008
Sometimes a single match or moment can define an entire event, and this is the case with Armageddon 2008. Most of the show was filled with decent action, but nothing mind-blowing. Finlay and Mark Henry had fun in Belfast Brawl, particularly impressive Henry, while John Cena defended his world heavyweight championship against Chris Jericho in a good game.
The main event was special, with Jeff Hardy ultimately winning the WWE Championship to a truly thunderous standing ovation during one of the most memorable championship celebrations of all time. The game itself was intense and action-packed, and Hardy's victory set this event apart from many others.
10 craziest Jeff Hardy's stunts, ranked
Jeff Hardy is one of the biggest daredevils in the business and it's his craziest, ranked stunts.
Read more
About the Author