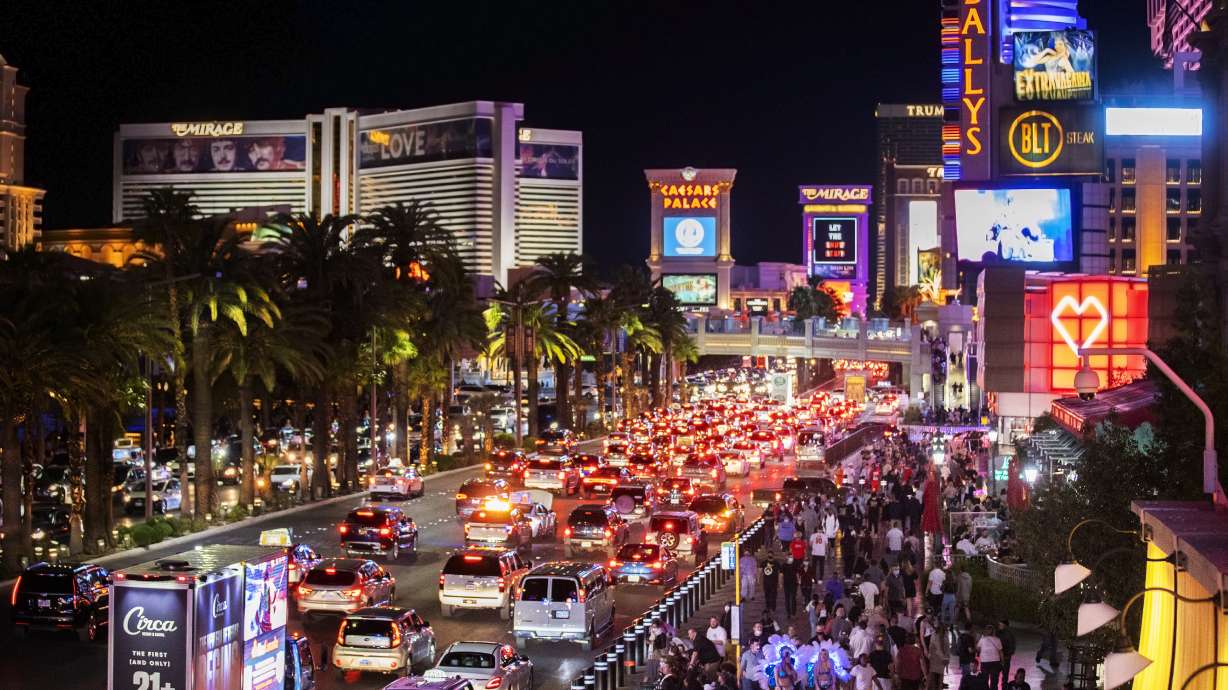 8 fun things to do in Las Vegas with your family
Here is a list of eight ideas that could make your next trip to the Las Vegas area a little more amazing. (Benjamin Hager, Las Vegas Review-Journal via AP)
Estimated reading time: 5-6 minutes
SIN CITY – The city of Las Vegas has long been used by Utah families as a convenient stopping point for road trips to Southern California. But the city has much more to offer than cheap hotel rooms. Here is a list of eight ideas that could make your next trip to the Las Vegas area a little more amazing.
Las Vegas Museum of Natural History
This under-the-radar museum has world-class collections. With two floors to explore, your kids can easily spend a few hours figuring it all out. It's especially nice on summer days, because you can escape the heat and enjoy some relaxing time. The place is rarely crowded on weekdays and it's not uncommon to have an entire section of the museum to yourself.
The museum also hosts special events each month, such as musical performances, workshops and dances for the whole family.
Get ticket information and directions here.
Old Las Vegas Mormon Fort State Historic Park
Did you know that the first permanent non-Native settlement in the Las Vegas area was built by missionaries from The Church of Jesus Christ of Latter-day Saints in 1855? The adobe fort was next to a stream, which provided water for orchards and crops.
This site is now a state park and listed on the National Register of Historic Places. There's a visitor center and picnic area, making it a great place to stop for a quick history lesson and lunch.
Get ticket information and directions here.
The Flamingo Wildlife Habitat
While the Las Vegas Museum of Natural History and Old Las Vegas Mormon Fort are outside the hustle and bustle of downtown, you may find yourself on the Strip and need a quiet place to relax. The Flamingo Wildlife Habitat, located within the Flamingo Resort, offers four acres of gardens with streams and waterfalls. Your children will enjoy spotting the resident flamingos, pelicans, fish and turtles.
The visit to the habitat is free and no reservation is necessary. Every day at 8:30 a.m. and 2 p.m. there are presentations to help your family learn about the resident wildlife.
Get information and directions here.
The Big Apple Coaster
If your kids are a bit older and are looking for thrills, the Big Apple Coaster might be for you. Exceeding 67 miles per hour and featuring a 203-foot drop, this roller coaster is one of the best in the entire state. Just be aware that your kids must be at least 54 inches tall to ride.
Once you've completed the roller coaster, you can proceed to the Big Apple Arcade. There are plenty of new games to check out, as well as classic carnival-style games.
Get ticket information and directions here.
Town Square Children's Park
If you're only making a short stop in Vegas, you should consider swinging through this lovely little park. There is a shaded play area for children, with slides, a climbing cube and a trampoline. And the mist from the paddling pool will refresh you even on the hottest days. The park is free to visit.
There are many restaurants within walking distance of the park. The best might be Lazy Dog, which has a great kids' menu.
Get information and directions here.
shark reef aquarium
This attraction may not be as large as our own Living Planet aquarium, but it's still home to thousands of animals, such as sharks, sawfish, jellyfish, crocodiles, rays, green turtles , piranhas and a huge Komodo dragon. And the 1.3 million gallon main tank is one of the largest in the country and home to dozens of sharks.
Your tickets will also include the "Undersea Explorer" virtual reality experience, which is an absolute blast. Once you put on the headsets, you can enjoy 360 degree stereoscopic virtual reality. The seats move in sync with the movie, making you feel like you're on a real diving expedition.
Get ticket information and directions here.
Bacchanal sideboard
Many people consider this buffet, located at Caesar's Palace, to be the best in Vegas. Based on quality and selection, I agree. One thing's for sure: with over 25,000 square feet of space, it's the biggest buffet in town.
Bacchanal Buffet offers a superb seafood section and cutting station. Plus, there are plenty of vegetarian, vegan, and gluten-free options. Even if your kids aren't interested in the more exotic flavors, like Lao, Filipino, Indonesian, Thai, and Vietnamese dishes, there are delicious pizzas and pastas that will get them excited. And the dessert selection is downright amazing.
Get booking information and directions here.
Mandalay Bay Beach
Rated one of the best pools in the country by Tripadvisor, Mandalay Bay Beach is definitely a Vegas highlight. It covers 11 acres and features a 1.6 million gallon wave pool, a lazy river with waterfalls, and multiple pools.
Only Mandalay Bay hotel guests are allowed in the pool area, but if you're spending the night on the town, it's well worth the cost of a room to get access. The massive wave pool is perfect for older kids, while the kiddie pool and lazy river are baby-friendly. Additionally, there is high quality sand covering much of the area. So you can just lay down a blanket and let your kids play as they please.
Get hotel information and directions here.
×
Pictures
More stories that might interest you