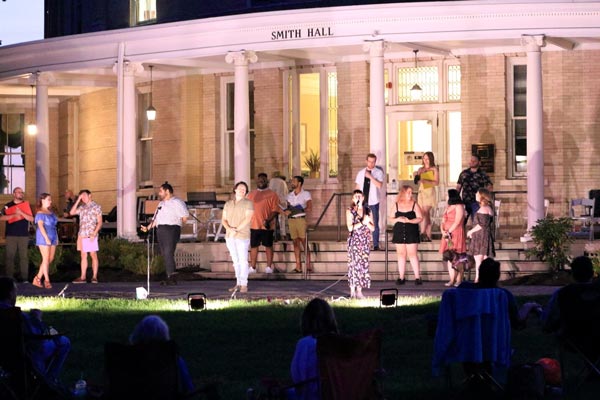 Centenary Stage concludes Front Porch series with "Songs of Summer" on August 11
[ad_1]
NEWS | FEATURES | OVERVIEWS | EVENTS
(HACKETTSTOWN, NJ) – Centenary Stage Company's popular Front Porch series ends with its last free performance of the season; "Songs of Summer", a twilight cabaret. The performance will take place Wednesday, August 11 at 7:00 p.m. on the lawn at 400 Jefferson Street, Hackettstown, NJ. "Songs of Summer", a twilight cabaret will present a selection of songs to complement the summer evening. The production will feature the vocal talents of Centenary University students, alumni and Centenary Stage Company favorites.
Seats are allocated on a first come, first served basis and you must bring your own lawn chair or blanket. Advance reservations are encouraged. The event is free to the public with donations appreciated.
"Songs of Summer," a Twilight cabaret will also feature Jersey Girl Brewing and Marley's Gotham Grill as star vendors. Customers wishing to purchase and consume alcohol must bring valid ID to present at check-in for the event.
An encore performance of "Songs of Summer," a Twilight Cabaret will be held on Thursday, August 12 at 7:00 p.m. at the Sussex County Community College campus 1 College Hill Road, Newton, NJ 07860. The encore performance will not feature Jersey Girl Brewing and Marley's Gotham Grill as vendors.
Centenary Stage Company's Front Porch series was developed in response to the COVID-19 pandemic to continue to provide the community with family-friendly performing arts programming while meeting state requirements in the height of the public health crisis. After a successful first season of outdoor events, the program quickly became a staple among CSC programs.
Advertise with New Jersey Stage for $ 50 to $ 100 per month, click here for more information
---
For more information or to book, visit centenarystageco.org or call the Centenary Stage Company ticket office at (908) 979 – 0900. The Centenary Stage Company ticket office is open Monday through Friday from 1:00 p.m. to 5:00 p.m. and two hours before all performances. The box office is located at the Lackland Performing Arts Center on the Centenary University campus at 715 Grand Ave. Hackettstown, NJ. Centenary Stage Company can also be found on social media platforms; Facebook, Twitter and Instagram. Like and Follow to receive the latest news and specials from CSC.
Centenary Stage Company remains committed to the health and safety of our community and adheres to all requirements set forth by the State of New Jersey. For more information on CSC COVID-19 policies and policy updates, visit centenarystageco.org/faq.
The 2021-22 season of Centenary Stage Company artistic events is made possible by the generous support of the Geraldine R. Dodge Foundation, the NJ State Council on the Arts, the Shubert Foundation, the Blanche and Irving Laurie Foundation, the Sandra Kupperman Foundation, the John and Margaret Post Foundation, and CSC corporate sponsors, including Platinum Season Sponsor The House of the Good Shepherd, Silver Sponsors Hackettstown Medical Center Atlantic Health System, Home Place Senior Care (Washington) and Fulton Bank, and Centenary Stage Company members and supporters.
Advertise with New Jersey Stage for $ 50 to $ 100 per month, click here for more information
---
originally published: 06/08/2021
[ad_2]