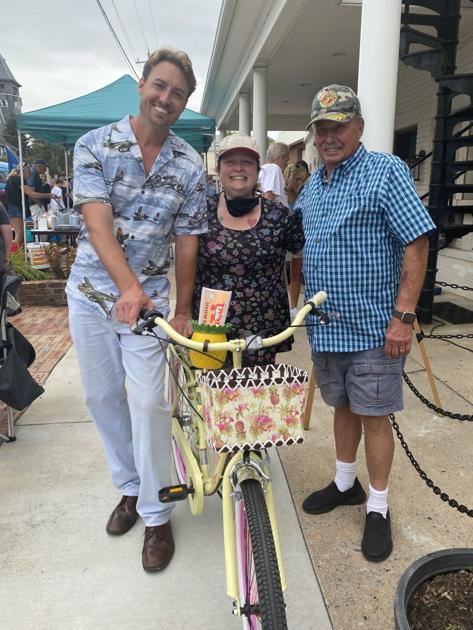 Clubs & organizations | Winchester Star
Winchester Lions club meeting
The club meets today at 12:15 p.m. at the Winchester Moose Lodge. If you would like to join the meeting, send an email to [email protected]
Winchester Host Lions Club Hearing Aid Program
The aim of the program is to provide a hearing aid in the form of hearing aids to low-income people and to share information with those who need it. The Winchester Host Lions Club hearing aid and recycling program offers sound to those in need. The club looks for donations of used hearing aids, regardless of age, style or condition. If you need a hearing aid, contact us at [email protected] or Winchester Host Lions Club, PO Box 2921, Winchester, VA 22604, for more information.
Winchester Kiwanis Club
Club meetings are held every Wednesday at the Winchester Moose Lodge from noon to 1 p.m. Here is the schedule for the upcoming program: August 25, annual club picnic; September 1, business meeting. Anyone interested is invited to join Kiwanis for lunch.
Shenandoah Valley Stamp Club
The Shenandoah Valley Stamp Club will meet from 7 to 9 p.m. on August 24 at 212 Davis Hall (Winchester-Frederick County Visitor Center building). The club meets on the fourth Tuesday of every month except December and invites stamp collectors of all ages. For more information, contact Cal Allen at [email protected]
Discussion on pollinators during the NARFE meeting
Virginia Master Naturalist Marie Majarov will speak to members of NARFE Chapter 180 (active federal employees and national retirees) on August 27 at the Boyce Fire Station in Boyce. Majarov is an award-winning nature photographer, freelance writer and educator who lives in Frederick County. Its subject will be "Pollinators: hope for our future". An indoor picnic of burgers and hot dogs will be served at 11:30 am For lunch reservations at $ 15 per person or for membership requests, email Ken at [email protected] .
School supplies, collection of gift cards
Do you have any unused gift cards or gift certificates? If you do, they could be used to purchase much-needed school supplies (backpacks, pencil boxes, etc.) for Bright Futures or for a drawing for local educators on August 29. Donations and gift cards can be dropped off at the First Presbyterian. Church, 116 S. Loudoun St., Winchester or mailed to the church Attn: School Drive. For more information, call 540-662-3824 or visit fpcwinc.org/summer.
WFRCW
The monthly Winchester-Frederick County Republican Women's Meeting will be held at 11:30 a.m. on September 1 at the Winchester Country Club. The guest speaker will be Paula Steiner, President of the Virginia Federation of Republican Women. Lunch costs $ 17 per person. RSVP before August 27 to Rosa Barrineau at [email protected] or 520-249-2593.
Disabled American Veterans
The DAV meets the first Wednesday of the month at 7:30 p.m. at the Cherry-Beasley Readiness Center, 181 Pendleton Drive, Winchester. Questions? Contact Leroy Lovett at 540-533-7737.
AMVETS and DAV
American Veterans (AMVETS) Post 18 and Disabled American Veterans (DAV) Chapter 9 have joined forces to better serve our local veterans and their families. John Roberts, Chapter DAV Certified Service Agent, is available to assist veterans with filing claims, claims and / or appeals from the Department of Veterans Affairs (VA). He can be reached at [email protected] or 843-812-4473. Veterans in need can also email AMVETS Post 18 at [email protected] or call Post 18 Commander Ralph Hensley at 571-232-1184.
American Veterans (AMVETS) Post 18 meets the third Wednesday of each month at 6:30 p.m. at Post Home, 851 Green St., Stephens City. All current and active duty, Reserve and National Guard personnel and veterans who have served honorably are welcome.
Veterans lunch
Veterans are invited to join in for an 8:15 am breakfast on the first Saturday of each month at the Golden Corral Restaurant in Winchester. The group is led by local pastor Paul Campbell. After breakfast, each veteran presents their military experiences to the group. The cost is $ 7 for an all-you-can-eat breakfast. Please wear a baseball cap representing your military service or organization. Questions? Josh Morimoto at 703-967-8679 or [email protected]
Literacy volunteers are looking for tutors
Literacy Volunteers The Winchester area is looking for volunteer adult literacy tutors. Tutors do not need to have previous education experience. They only need a desire to help an adult read, write or speak English, understand math, learn a life skill like driving a car or using a digital device, or how to become a citizen. For more information, call 540-536-1648 or email [email protected]
Winchester Area Newcomers Club
Winchester Area Newcomers Club is a social organization for women who are new to the Winchester area or who have had recent life changes and are looking to meet new friends. The goal of the club is to promote fellowship through a variety of social activities. Multiple interest groups meet monthly or seasonally throughout the year in a variety of locations.
Due to COVID restrictions, membership meetings have been suspended until further notice, but many of our breakout activities (such as the book club and embroiderers) are still conducted through Zoom. Outdoor programs (like our walking and hiking groups) are conducted with appropriate social distancing.
More information is available at http: www.winchesternewcomersclub.org. Click on the "contact us" link and fill in your information to be contacted.
National Federation of the Blind
The Winchester chapter of the National Federation of the Blind remains busy despite COVID-19. The group welcomes people who are blind or visually impaired, as well as family and friends. The goal is to help visually impaired people live the life they want. The group offers many networking opportunities and blindness-related resources, including free white canes for children and adults who are blind. It also offers scholarships.
The monthly chapter meetings are now virtual but hopefully will soon be "in person" again. Those interested in participating should contact President Chris Walker at 540-303-0080.
NAMI
The National Alliance on Mental Illness-Northern Shenandoah Valley meets Mondays at 10:30 a.m. at the Jim Barnett Park POW pavilion. Meetings are free and last 90 minutes. They are open to anyone 18 years of age or older. A group of young adults kicks off on Zoom on May 27. For more information, email [email protected]
Winchester Brain Injury Group
The Winchester Brain Injury Group is organizing a six-part series called "Brain Injury Basics" on different aspects of brain injury. These meetings take place on Zoom from 6 p.m. to 7.15 p.m. on the third Thursday of each month. The goal is to help each other thrive after a head injury, both survivors and caregivers. For more information or to register, contact Kathleen Mancini at [email protected] or Betty Friant at 540-550-1784.
Salvation Army
The local Salvation Army now has volunteer opportunities available at their family thrift store and for daily meal service at their emergency homeless shelter. For more information, contact Tracy Hines at 540-662-4777 ext. 18 or [email protected]
CCAP
CCAP Winchester is seeking donations of lightly used summer clothing for men, women, teens, children and infants / toddlers. Men's t-shirts in sizes large and extra large, men's jeans in sizes 32 to 42 and tennis shoes and flip flops for men and women are especially needed. Donations can be dropped off Monday through Friday between 10 a.m. and 1 p.m. at 212 S. Kent St.
Disposable adult underwear is also required at CCAP. Please contact CCAP at 540-662-4318 or The Red Wagon Ministry at [email protected] for more information.
Sterilize today
Spay Today is the region's non-profit, discounted sterilization and sterilization program. Choose from many vets across a large area. At the time of surgery, injections and initial tests can also be obtained at lower rates. Contact Spay Today: https://spay-today.org or call 304-728-8330.