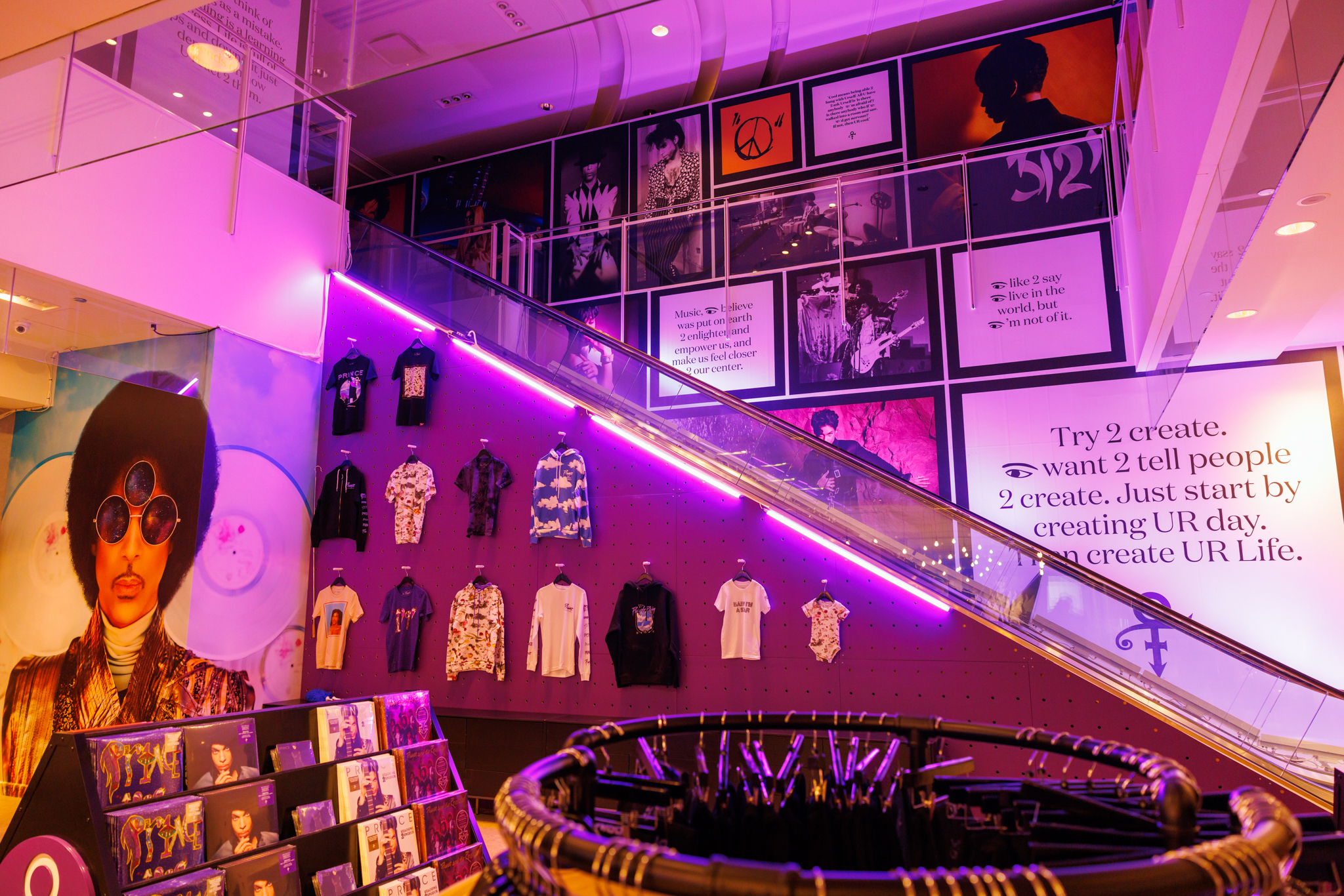 Immersive Prince Experience opens in Chicago
Dearly beloved, we are gathered here to say that a purple-hued world has opened up on Michigan Avenue, thanks to the arrival of a new immersive Prince-themed exhibit inside the sprawling Shops complex. at North Bridge.
Developed by event production company Superfly, "Prince: The Immersive Experience" takes visitors on an approximately 60-minute tour of interactive rooms exploring the life, music and legacy of the iconic musician. You will first be greeted with a short video; then it's in themed rooms designed to look like everything from a lilac-scented imitation of the bathroom in the "When Doves Cry" music video to a realistic studio version of Prince's Paisley Park, painstakingly recreated with details like a shelf full of 5-Hour Energy shots that Prince kept on hand for recording sessions. And because it's an immersive experience, many venues come equipped with some kind of interactive element, whether you prefer to experiment with "Let's Go Crazy" sound mixing in the studio, take a personality quiz to get a personalized Prince's deep cut playlist or pose for photos atop a replica of the famous "Purple Rain" motorcycle.
The music video nods are cool to see in person, but die-hard fans will be pleased to note that "Prince: The Immersive Experience" goes beyond eerie recreations and photo ops. Superfly (who also created "The Friends Experience" and "The Office Experience") collaborated with Prince's estate to solicit memorabilia, archival footage and new work from some of the musician's close friends and collaborators. In one memorable room, visitors can dance to the music of a live DJ in a trippy, kaleidoscopic room of mirrors and flashing lights custom-created for the exhibit by renowned production designer LeRoy Bennett. Meanwhile, comprehensive exhibits from the musician's early years in Minneapolis have shed light on how his hometown influenced his work and his resistance to superstardom pressures, a theme later explored in rooms that focus on Prince's activism for artists' rights.
Finally, if you're in the mood for Prince-themed gifts, a gift shop near the exhibit entrance offers purple t-shirts, sweatpants, records, and many other merchandise, as well as limited-edition choices like third-eye sunglasses from the eyewear company. Coco & Breezy.
Ready to enter the world of "Purple Rain" and Paisley Park? "Prince: The Immersive Experience," located in The Shops at North Bridge (540 N Michigan Ave), is currently scheduled to run through October 9. Tickets start at $39.50 for general admission and VIP options are available for $54.50 to $65. You can take a look at some of the exhibition highlights below.