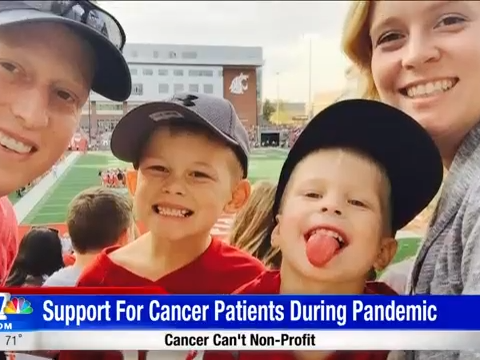 Local nonprofit provides support for cancer patients during pandemic | New
Becky Van Keulen is the co-founder and chair of the board of directors of Cancer Can't, a charity created by her husband Jonathan after her diagnosis of bone cancer in 2014.
"He needed a purpose for this, so he started Cancer Can't with the mission of helping other people who followed him with their day-to-day circumstances," Becky said. "And now looking back, I laugh a little. If only he knew what he was hiring me for."
They saw a need in the community and mobilized to meet it.
"For every 113 people diagnosed with cancer, one is a child, yet 80% of the nonprofit funds that are raised go to childhood cancer," Becky said.
Cancer Can't offers all kinds of services to adult oncology patients and their families: transportation to treatment, grant programs, family sponsorship for Christmas. You call him? They probably do.
"Each of us has a history of cancer, and I think that's what cancer can't be and what we stand for."
The organization's mission is more important than ever because of the pandemic.
"The projections are going down," Becky said. "When the pandemic hit, people stopped going for colonoscopies and mammograms and things like that. And if they weren't reprogrammed, people should. The fear is that instead. to get stage I cancer, we could get stage IV cancer. That's the difference between life and death in some cases. "
Heidi Rudy's husband was a close friend of Jonathan's and quickly became involved as a volunteer with Cancer Can't after its inception.
2020 wasn't Heidi's favorite year, but she's able to look back with a laugh.
"For many reasons," Rudy said. "The pandemic, I turned 60 and found out I had breast cancer."
She was diagnosed with breast cancer in September 2020 after a regular mammogram and completed her treatments in July.
"It's not a club you want to be in," Rudy said. "It's crap, but when it comes to paying it forward, I can't wait to help other people, encourage other women to have their mammograms, and talk to people if they need to. talk to someone since I've been there. "
Jonathan Van Keulen sadly lost his battle with cancer in 2016, but that didn't stop Becky and Cancer Can't.
"I think that's why I keep going and why I'm doing this," Becky said. "Because I know we are making a difference with other families going through cancer."