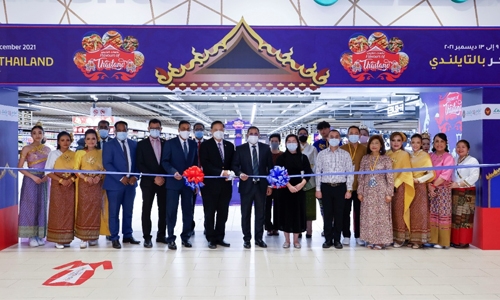 LuLu's Thai Experience Attracts Huge | THE DAILY TRIBUNE
TDT | Manama
The Daily Tribune – www.newsofbahrain.com
An immersive experience of Thai food, culture and some of the best deals on Thai ingredients and products was opened yesterday at LuLu hypermarket in Dana Mall by Nuttapat Chumnijarakij, Thailand Account Manager in Bahrain.
The "Flavors of Thailand" festival will run until December 13.
The event brings together some of the most beloved aspects of the Thai experience in an easy-to-access pop-up format.
The "Flavors of Thailand" will feature cooking and cooking demonstrations that will appeal to everyone.
From Pad Thai to papaya salads, green curry and Thai style noodles to the amazing Tom Yum Kung and chicken satay, these Thai restaurants will delight your palate with authentic tastes of Thai cuisine.
Participating restaurants are Shada, Khunnay Khanom Thai, Tom Yum Kung, Top Thai and Thai Town.
This event will bring you a complete experience with free mini Thai massages by professional masseurs from Ann's Spa and Sherry Wellness.
With the overall experiences it will make you want to travel to Thailand, then you can get up to date information on travel rules and destinations in Thailand and plan your trip with Gold Coast travel agency.
Premium products such as kitchen utensils and contemporary melamine and plastic items will be available at promotional prices never seen before.
And to tempt your taste buds, plenty of exotic Thai fruits, vegetables and specialty ingredients will be available at tempting prices.
The opening night also includes cultural performances of colorful Thai dances by local Thai communities in Bahrain.
"Thai cuisine, culture and tourism are increasingly popular around the world and in Lulu we see that Bahrain also has a large number of Thai fans," commented Juzer Rupawala, Lulu Group Manager, "Chez LuLu , we meet the demand for Thai products in all sectors, especially food.
Thai vegetables, fruits, exotic special ingredients and branded condiments make it easy to experience Thai cooking at home.
This promotion is a great opportunity to explore the world of Thai flavors.