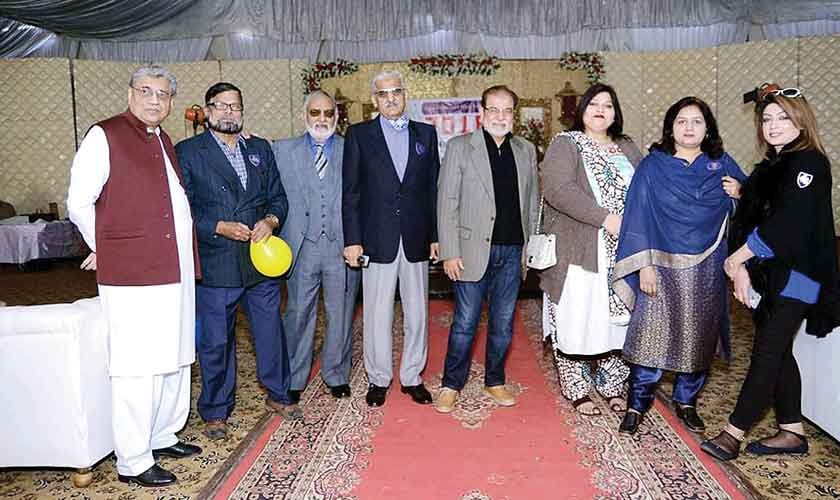 My very first day at school! | Shehr
I must have been five years old when my father took me to school for admission.
It was a beautiful April morning in 1952. I remember rocking my numb thighs on the bike as my father rode it. I asked him how far we had to travel. I didn't know that behind those big trees, an old white bungalow was our destination.
Next to the Courts of Sessions was a huge door that was permanently locked. Entrance for students was through a small door. The building was made of old briquettes and lime, forming many pointed arches. The high roofs were held in place by thick wooden beams which allowed for fans and plenty of daylight, keeping the covered area cool in the long summers and warm in the short winters.
A very large semi-circular sign indicated Joan McDonald Junior Cambridge School. Founded by an Irishwoman, Joan McDonald, in 1933, on her retirement as the first headmistress of Kinnaird College for Women, Lahore, the college grew out of the school which is still functional at the junction of Nicholson and Empress roads.
This private school had a large playground and the volleyball net on one side. A seesaw for daredevils and a slide accessible by stairs were on the other side. At its end was a fairly large stage which was used for the school's annual plays. Various luminaries have played their part as members of the school's dramatic society. This included the Peerzada brothers and the beautiful lady who acted in Anarkali like Dilaram. This scribe also had a stint.
Annual sports were held in the large adjacent ground which belonged to the Government College. (The playground is now overrun with a police station and a small mosque). Mrs. Murad, a basketball enthusiast, named me class captain and recommended a double promotion. Later, she left school and appeared in feature films with her stunning dances. She also founded Fantasia, a company specializing in making costumes for the greatest artists of the cinema.
Menezies-Tony was a master of music who miraculously played the piano, tuned annually by Lobo, near Regal crossing.
When my name was put on the school register, I was more interested in getting to know the campus. With the other newcomers, I took an unguided tour. I saw that the classrooms were marked from I to X. We assumed that class VIII was the oldest, while IX and X barely existed.
The next few days we spent in other explorations. Every day seemed like another "first day" at school.
An old Englishman in khaki shorts, a retired World War II soldier, who had chosen to stay back, was the master of the PT. He could barely speak Urdu. When I asked him why he hadn't returned to England, he told me that it was much cheaper to stay in Pakistan with a European quality pension.
The PT master was supposed to inflict corporal punishment on unruly students. Instead of hitting them, he made them do 15 frog jumps which he demonstrated himself. If a student hesitated, further demonstrations were given. He would then dismiss them and the class teacher would feel like they had been punished enough.
At daycare, my teacher was an Englishwoman named Mrs. Harding. His son had served in Burma. His grandson, Michael, was my classmate. We often exchanged memories. Shortly after, he left for England.
The school was mixed. The boys and girls behaved well. The teaching staff, too, was quite cosmopolitan – it included Christians, Parsis and Muslims. Some Goanese teachers, like Miss Handel and Emmory, arrived at school just in time on their women's bicycles.
On our first day of school, we were made to phonetically repeat all the English alphabets. It was an illustrated brochure. It was the images in the booklet that helped us connect the words to their meaning.
That said, the mother tongue facilitates communication and learning.
Soon we realized that the break was the most interesting part of the school day. Saadat Ullah Khan, who still wore a wristwatch, rang the bell with a gavel to announce the break. (He attained the rank of Inspector General of Punjab Police.)
As soon as the break was announced, there was a loud high-pitched noise and we all rushed to the playground, took advantage of the swings, seesaws and slides, and tried to climb the trees. The commotion scared away all birds including crows and reptiles including large lizards.
On my first day of school, I got so caught up in the idea of ​​recess that I left my brand new satchel in the classroom; there was my lunch box. When I returned to class, all I could see was my canvas bag ripped off in places, for the ground meat my mother had so lovingly cooked for me. I saw crows escaping in low flight.
The end of recess would be a very sad moment; it was usually followed by a buzz, then a rush to classes. Those who remained had to pick up trash and scraps of newspapers used to wrap lunch.
Saadat Ullah Khan seemed to have the last word. As the ground emptied, all the reptiles, exotic lizards and squirrels descended from the tall trees, picking up the remains.
The saddest day of my school life happened in April 1961, when we were greeted by the senior class. With tears, we said adios to our teachers, Enayat Pervaiz and Mushtaq Ahmed, and to the principal, Mrs. Agha Bashir Ahmed. Mrs. Harding was in England.
In the convocation of Punjab University in 1967, three students – namely Ajaz Anwar (this scribe), Nasira Mahboob and Aisha Akram – were awarded gold medals for fine arts, political science and science respectively. sociology.
The school was deprived of its large playground and outdoor stage as well as sports facilities. However, his former students still meet each year, around a lunch, to revive the memories of yesteryear. Last December, I was invited to share some memories. Tanvir Sheikh is the engine of this meeting. My supposedly brief speech lasted about an hour. I talked about my "duel" with Sultan who was at least a foot taller than me, and about "Raquets Drawn" between Zahid Ghauri and Manzar, moderated by a Parsi girl, Mehr Dara (already covered in my first columns) .
Note: Free art classes for all ages and genders are held every Sunday online at houseofnannas.com
(This dispatch is dedicated to Mrs. Harding)
---
The writer is a painter, a founding member of the Lahore Conservation Society and the Punjab Artists Association, and a former director of the NCA Art Gallery. He can be contacted at [email protected]