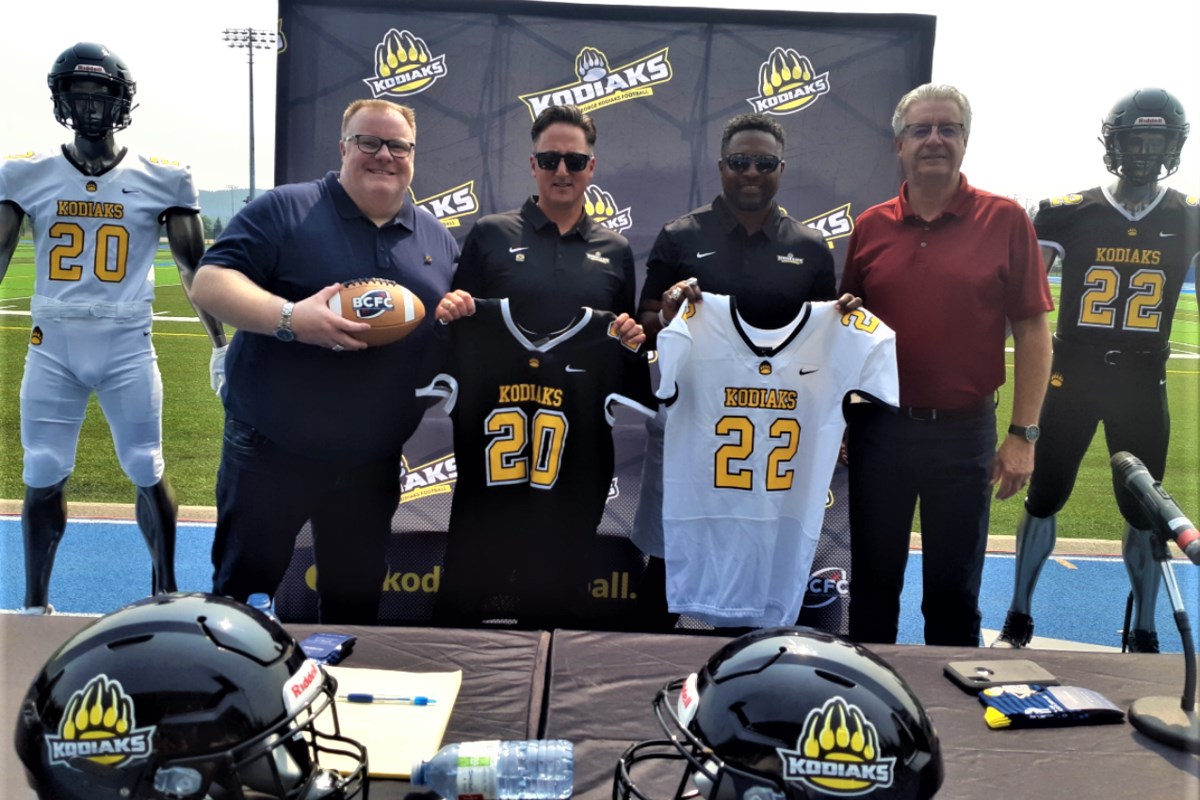 Prince George Kodiaks prepares for BCJFC's first season
The BC Junior Football Conference expansion team will play its inaugural game July 23 in Chilliwack; the opener against Kamloops will be on August 6 Masich Place Stadium
Are you ready for some football?
It's coming soon at Masich Place Stadium.
The Prince George Kodiaks are hosting their inaugural spring camp May 27-29 and the field is poised to become a hub of activity, with over 100 players expected for Friday and Saturday sessions (May 25-28) . Players will participate in drills and conditioning activities for the first two days, then split into two teams for a Sunday, May 29 afternoon scrum that begins at 1 p.m.
The Kodiaks are the 19th franchise in the Canadian Junior Football League and they join the British Columbia Junior Football Conference this season as an expansion franchise to form a seven-team league that will start with three games on Saturday July 23.
Led by head coach and director of football operations Keon Raymond, a two-time Gray Cup defensive back with the Calgary Stampeders, the Kodiaks face off on the road in Chilliwack against the Valley Huskers.
The drive to bring junior football to Prince George has been growing for the past 3 1/2 years. Since the league awarded the franchise in March 2021, the committee responsible for managing the community-owned nonprofit team has worked tirelessly to get the necessary funding in place to get the Kodiaks off the ground.
The team launched its Kodiaks Kick off 50-50 draw a few weeks ago, which has a guaranteed minimum win of $100,000. If ticket sales peak, the winner will receive $1 million. The draw will take place during the Kodiaks' home opener on Saturday August 6 at Masich Place Stadium.
The team's second annual golf tournament, May 26 at the Prince George Golf and Curling Club, is sold out.
The Kodiaks purchased 100 sets of player gear and jerseys at a cost of more than $250,000, which will be covered through local fundraising and sponsorships. Each player must pay a $1,000 registration fee, which helps cover team costs. An aid program will be put in place for players in financial difficulty who are unable to pay team fees.
A general scholarship fund will help Kodiaks players cover post-secondary tuition. Briere said a fundraising effort to raise money for scholarships is planned for the return weekend of Sept. 23-24. Kodiaks President Craig Briere said 50-60% of players are enrolled in or considering post-secondary programs this fall.
"Football is a vehicle for education, for the development of young men, and that is our raison d'être," said Brière.
The age of eligibility for junior football in Canada is 17 to 22 years old. Players younger in the age spectrum must have graduated from high school this year or have already graduated in order to play in the 2022 season. Between 80 and 100 players will be on the Kodiaks roster and 40 to 50 players will be local products who played high school football in the five-team Northern Football Conference.
"We have players who transferred from other CJFL teams like the Winnipeg Rifles," said Briere, head coach of the Duchess Park Condors High School team. "We recruited all over Canada and we have players from Winnipeg, we have six grade 12 players from Yorkton, Saskatchewan and young people from Alberta and British Columbia. In order to build a competitive team, we've had to look all over Western Canada as we continue to work to develop our local talent.
Housing for out-of-town players is still being worked on. Some will attend post-secondary programs at UNBC and the College of New Caledonia and try to find rooms in dormitories or rental accommodation. Some will live in dwelling houses.
"We are looking at all possible housing options," Brière said. "Prince George is a great community and when there is a need, people step up. We welcome these young men into our community and want them to play here, love Prince George and stay here. They are good young men and we want them to stay.
The players will report to training camp on July 10 and the regular season opener will be July 23 in Chilliwack.
Masich Place stadium has a grandstand capacity of 1,100 and Briere said the team expects all grandstand seats to eventually be sold out. The team will set up a VIP tent in one of the end zones and plan to set up a family section / standing room section near the other end zone. Brière asked the city about the availability of portable bleachers for the visiting sideline to bring more people into the stadium.
Subscriptions are now on sale at $85 each.
Tickets for one game will cost $25, with some tickets costing as little as $10. If the extra bleachers are installed, there will be family ticket packs for four people priced at $150 each.
"We want to make sure that anyone who wants to come see a Kodiaks game can come," Briere said.
Brière is still working out a liquor policy with the city administration that would allow the sale of beer in all sections except the Family Zone. Brière expects there to be a high level of fan interest in the games and pre-game activities.
"All of our games are Saturday at 7 p.m.," Brière said. "Gates open at 4 a.m. and tailgating begins at 5 a.m. The parking lot along the PGSS fields will be the tailgating parking lot."
Kodiaks will play 10 – game schedule
In their first season, the Kodiaks will play all but two of the BCJFC's seven teams, starting with their opener on July 23 in Chilliwack. The 10-game season includes five home games and five on the road. After their home opener against the Kamloops Broncos on August 6, the Kodiaks will travel to Chilliwack for a rematch with the Huskers on August 13 and host Valley on August 20. Prince George will next visit the Okanagan Sun on August 27 in Kelowna.
After a Labor Day weekend goodbye, the Kodiaks are back on the field at Masich Stadium on September 10 to take on the defending Canadian Bowl national champions Langley Rams, then take on Kamloops in a first leg- return on consecutive weekends. September 17 in Kamloops and September 24 in Prince George. The Kodiaks hit the road Oct. 1 to play in Langley and wrap up the regular season Oct. 5 in Prince George against Okanagan.
The top four BCJFC teams advance to the playoffs. The No. 1 and No. 2 seeded teams host the semi-finals on October 15 and the winners meet for the Cullen Cup on October 22, played at the home of the top remaining seed. The Cullen Cup champions then head east to face the Ontario Football Conference champion on October 29 in the national semi-final. The Prairie Junior Football Conference champions receive a bye to the national final and will host the Canadian Bowl on Nov. 12 against winners Ontario-BC.
The Langley Rams defeated the London Beefeaters for the 2021 Canadian Bowl title in London, Ont., on Dec. 4.