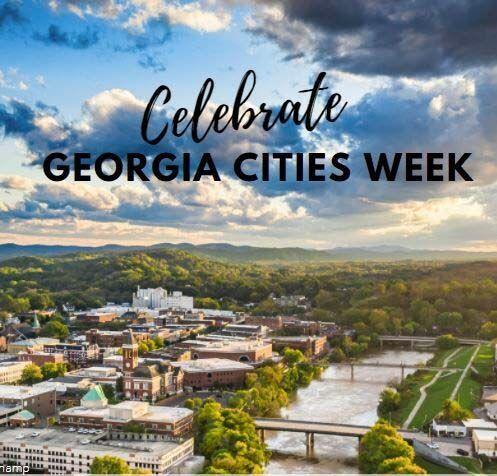 Rome Celebrates Georgia Cities Week October 3-9 with Lots of Community Activities | Local
The city of Rome will be celebrating Georgia Cities Week from October 3-9 and invites residents to participate in a variety of upcoming events and programs.
Sunday October 3: Day of free family play at the tennis center in Rome
The Rome Tennis Center at Berry College invites the community to experience the long-standing sport of tennis. The SPLOST-funded facility opened in 2016 and offers community programs and classes for all ages. The facility will be open free of charge from 1 p.m. to 2:30 p.m. on Sunday, October 3. Play tennis for free with your family and friends; tennis equipment will also be available.
Call 706-236-4490 to reserve a free court to play.
Sunday October 3 – Friday October 8: Rome-Floyd Planning Department Treasure Hunt
The Rome-Floyd Planning Department is a joint department responsible for county-wide systems including mapping (GIS), transportation planning, historic preservation, land use information and activities full planning. The department created a Georgia Cities Week scavenger hunt with clues and prices. From Sunday October 3, the treasure hunt can be downloaded from Romega.us/Planning. The public can also pick up a copy of the Scavenger Hunt at the Planning Office at 607 Broad Street during opening hours.
Monday October 4: Rome Transit Customer Appreciation Day and Free Transit Launch
Rome's transit department will celebrate its customers and offer transportation on the main line's fixed-route bus service free of charge from Monday, October 4. the main line fixed-route bus service until Friday, December 31. To view maps of public transport routes, visit Romega.us/Transit.
Tuesday October 5: Build your own Rome clock tower
To celebrate the work and importance of historic preservation, the Rome Historic Preservation Commission and Georgia's Rome Welcome Center and Gift Shops are teaming up to invite citizens to build a model of Rome's clock tower. Starting Tuesday, October 5, attendees can pick up a pre-printed model of the Rome Clock Tower at Georgia's Rome Gift Shop or the Rome Region History Center Gift Shop. Templates are also available for download online. The entered clock tower art will be part of an exhibition on the history of the Rome region in January 2022 as part of the celebration of the 150th anniversary of the Rome clock tower. Prizes will reward creativity. Details and registration templates are available at RomeGeorgia.org/Clocktower.
October 6-9: Stonebridge Golf Course Fall Celebration
The Stonebridge Golf Club is a city facility that offers golf programs and events for all ages. During Georgia Cities Week, the golf course hosts the Launchbox Fall Celebration. Launchbox has covered bays for playing a variety of golf games with outdoor furniture and bay side food and beverage service. On Wednesday October 6 and Saturday October 9, Stonebridge will donate 25% of all Launchbox revenue to the NWGA Boys & Girls Club. Stonebridge is also hosting a Launchbox family home evening on Thursday, October 7; children 15 and under play and eat free. Visit RomeStonebridge.com for details on all Launchbox Fall Celebration Programs.
Thursday October 7: Free pickleball clinic
The Rome City Center Tennis and Pickleball Center features 14 lighted USTA-standard tennis courts and 6 dedicated pickleball courts. The center invites the community to come and experiment and learn to play pickleball; the fastest growing sport in the United States Pickleball Pro, Mark Price, will lead the clinics and the equipment will be provided. The free clinics will be held from 8 a.m. to noon and from 4 p.m. to 7 p.m. Call the center to reserve a spot at 706-290-0072.
Thursday October 7: Small critters
The Rome-Floyd ECO Center is a joint department that provides education in natural resources. The center organizes a preschool program at 3 p.m. for children aged 3 to 5. Lessons and activities will help toddlers explore the natural world with the help of a parent or adult. The event is free, but places are limited, call 706-622-6435 to reserve a place.
Thursday October 7: Legends and traditions – Stories that could have been
The city offers many unique facilities that are available to the public for rental events. To celebrate these unique spaces, the public is invited to a storytelling event on the grounds of the Clock Tower in Rome. Bob Harris will present Legends and Lore at 6:30 pm Bring lawn chairs and blankets to sit on the lawn. The event is free; visitors are requested to wear a mask.
October 8-9: Haunted on Broad
The Rome Area History Center is a non-profit organization that uses a historic building in the city with the aim of preserving and sharing the history of Rome and its surroundings. The center hosts the annual Haunted on Broad tours on Friday and Saturday nights as a fundraiser. Hear spooky stories and see famous ghostly visitors to the dark side of Rome's past. Tickets cost $ 10 and are available online at RomeAreaHistoryCenter.org; visitors are requested to wear a mask.
Saturday October 9: Fiddlin 'Fest between the rivers
Downtown Development Authority represents and supports downtown businesses, landlords and residents. They invite you to attend the Fiddlin 'Fest Between the Rivers, a free bluegrass street festival in downtown Rome, which runs from noon to 6 p.m. For details on all the planned festivities, visit FiddlinFest.com.