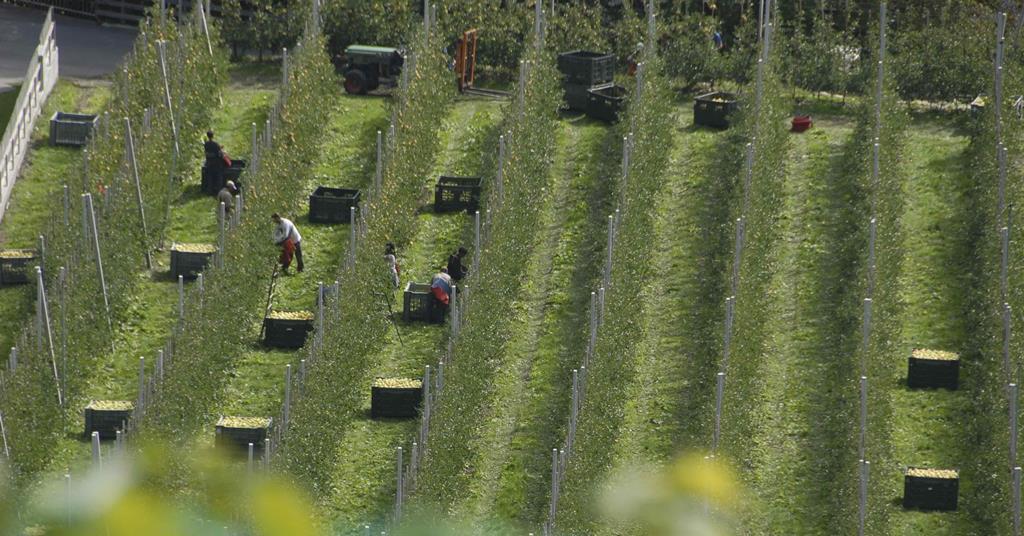 Serious challenges ahead for Italian apple exporters | Article
Less fruit to sell, smaller sizes, faster ripening and lower market prices mean tough months ahead for companies like Vip Val Venosta
Dry and scorching summer conditions in Italy, with very high temperatures and almost no rain, have presented the country's apple industry with several major challenges as the new season approaches.
Fabio Zanesco, sales director at South Tyrol-based supplier Vip, said the heat wave is expected to lead to a reduction in previously forecast harvest volumes, particularly across Western Europe, as confirmed last week by the World Apple & Pear Association.
[Wapa offers European apple crop update | Article | Fruitnet](https://www.fruitnet.com/eurofruit/wapa-offers-european-apple-crop-update/247173.article)
"Already shortly after flowering and fruit set, it became clear to us that the production volumes in the Venosta Valley would be below normal production potential, and we now estimate them to be around 15% lower," a- he predicted.
The extent of a decrease in volume depends on the variety or the production area, observed Zanesco, pointing out that apple orchards in the Venosta Valley are located at very different altitudes ranging from 500 m to 1,000 m. .
"In low-lying areas, the lingering heat affected volumes more," he noted. "The higher areas, on the other hand, were luckier, as the heat gave respite and allowed the apples to grow more."
The volumes of traditional varieties should fall more sharply than for club apples, the production of the latter expected to increase significantly.
In-store challenges
Good quality is expected, Zanesco said, but the challenge will be maintaining the quality of apples in storage, as high temperatures have led to premature ripening.
"The challenge will be to sell the most mature lots in the first part of the campaign and to store those that can stay longer in the cold rooms", he conceded.
"We are used to focusing our attention on the second half of the season, because at altitude we harvest later than other players, and this year it will be even more important to ensure adequate quality in winter and especially in the spring."
The coloring of the apples, on the other hand, should be less intense. This is because in July and August the orchards were not as cold as usual at night – so the temperature difference between day and night was much smaller.
"Already these nights the temperature has dropped well below 10 degrees, which makes us optimistic about the color and freshness of the apples we are currently harvesting," Zanesco added.
In terms of trading conditions, it is expected that there will be a lot of intense pressure on the apple market in the coming season.
Despite the emphasis on quality, Vip will also have to deal with a saturated market with significantly reduced selling prices and rising costs.
"With skyrocketing raw material and energy costs, producers are paying at least 10 cents more per kilo of outlay," predicts Zanesco.
"Selling prices will necessarily have to increase in the coming period, even if it will not be easy to find the balance between inflationary pressure and consumption under severe pressure."
Organic offer
For organic apples, the average fruit size is a few millimeters smaller than usual, at around 70-80 mm. "This is also due to the high heat", comments Gerhard Eberhöfer, responsible for organic sales at Vip. "The plants took cover to survive and the apples didn't grow as much as they could."
However, he does not see this as a problem. "Organic consumers are well aware that it is certainly not the size of the fruit that determines its quality."
Vip's new organic campaign started on August 20 with Gala Bio. It will then move on to Red Delicious Bio, followed by Pinova Bio. Unlike other varieties, stocks of Golden Delicious will last 12 months.
Overall organic apple volumes will be down about 20% from "normal" crops and another 5% from integrated production, as it is more difficult to maintain organic production when weather conditions are unusual.
But Eberhöfer has no doubts about the quality of the fruit: "Vip's well-known claim 'First Class Apple Partner' refers not only to the excellence of its service, but also to the excellence of its products", he comments. "Suffice it to say that we only sell Bioland or Demeter certified organic products.
These certificates are a guarantee for customers, especially in markets where there is a clear preference for these "extra-plus" standards.