STUDIO8 combines a pure dining experience in a historic 1930s villa in China
STUDIO8 RENOVATES A 1939 VILLA FOR THE GUD RESTAURANT
History meets culinary art as STUDIO8 conceives the reuse of architecture, interior and visual identity of restaurant GUD. Located in a heritage building originally built in 1939 in the central district of Hangzhou, China, the hotpot kitchen and the artisanal cocktail bar give the site a breath of fresh air. The three-storey residential villa transforms into a purely appetizing experience.
STUDIO8 renovates and expands a historic villa from 1939 for the restaurant GUD
all images courtesy of STUDIO8
STUDIO8 brings the richness of the site into the culinary museum
To STUDIO8, it was extremely important to create, and therefore live, a physical canvas created to highlight the continuous interaction between the kitchen and the space. Thus, by referring to the rich heritage of the site and the culinary particularity, the concept relies heavily on the culinary culture and atmosphere. With this approach, a villa "eaten" from 1939 to 2020 is renovated and extended to accommodate the GUD restaurant. Through a museum route, the building unfolds at different levels, both architecturally and conceptually.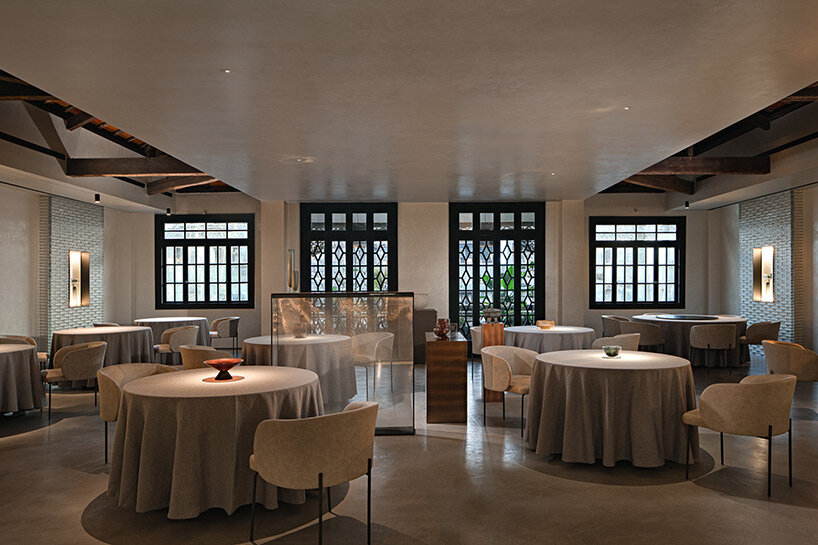 the project refers to the rich heritage of the site and the culinary particularity
architects play with the elements of fire, steam and water
The site includes the original villa, its extension to the north and the ground floor space of the adjoining building to the west. STUDIO8 believes that the best way to preserve a historic building is to make it adapt and respond to contemporary needs, giving it new life. The former residential building now houses service and utility spaces such as a kitchen and toilets. In addition, a vertical connection for public use has been made in the extension and the adjacent building, leaving the villa as a pure dining experience.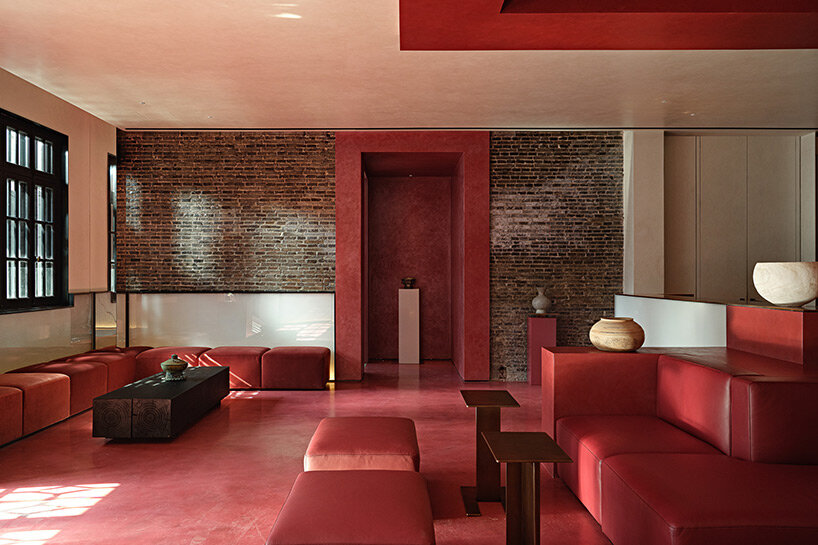 the fire element is strong on the first floor, as the aim is to create a warm welcome for guests
The element of Heat is a fundamental design factor on the first floor, where human interactions are planned accordingly. The goal was to create a more warm and welcoming space where people and friends first meet for cocktails and a chat until the rest of the group arrives. Obviously, this space dedicated to a cocktail bar acts as an energy generator to set the mood. Red flooring, a fireplace that stretches to the ceiling, down-lit woodwork, soaring sculptural columns that display antique hotpots, and scattered red velvet sofas lend a vibrant vibe and livelier, warmer social vibe.